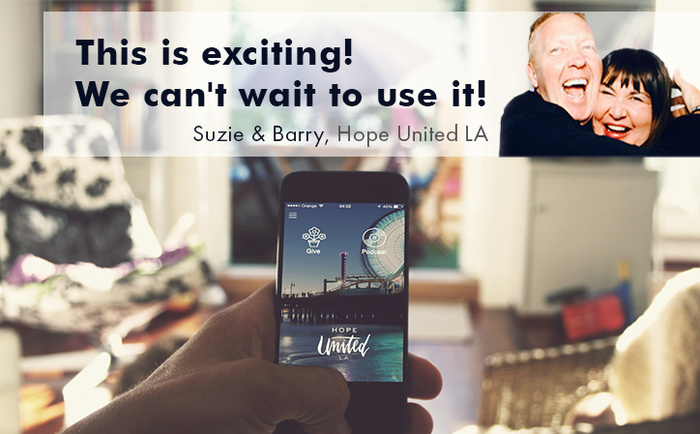 About three months ago, through a pilot project sponsored by PocketPew and Tithe.ly, Frank and I worked closely with Hope United LA to revamp one area of their digital strategy by launching a mobile app.
Barry and Suzie Crocker, Lead Pastors at Hope United, felt that they needed to do more by communicating more effectively through a mobile. Suzie wanted to make sure that people knew about the events that the church was planning and could respond to invitations to these events.
They were already experiencing success with online giving through Tithe.ly, but wanted to know how they could increase giving.
Through the pilot program conducted by Tithe.ly and PocketPew, we were able to consult with Barry and Suzie and outline a mobile app development and a marketing plan, to ensure we effectively addressed the challenge.
One of the most positive results was the growth in giving. When considering all the factors, stats and data, the integrated mobile app and Tithe.ly e-giving solution, that combined mobile giving with other online and offline giving tools, increased giving by over 80%. The number of people giving digitally doubled over this three-month period, as well.
We are really excited that the strategy worked.
Increasing giving isn't about asking for more money, but providing more value. 
The podcast is the most popular feature on the app . This content drives engagement. You can see this in the weekly usage patterns. Most people access the app on Sunday and Monday, to view the most recent podcast.
Engagement drops off for the rest of the week, until Saturday when people are probably reviewing previous week's podcast or checking what events are coming up.
The events listing feature has also become a popular one and Suzie has noticed that more people are responding to invitations to events than in the past.
It's only about 3 months in and we know there are more to be done. I have highlighted a few recommendations that Hope United LA (or any church) should consider to build on this success.
Check out the full case study here and let me know know if you have any questions or comments. Love hearing from my subscribers.  🙂